Tobias Brauchle
Software-Architect and Backend / Full-Stack Developer
focussed on Laravel with Vue.js and Inertia.js

Tobias_Brauchle_CV_08_2020.pdf
|
German
|
English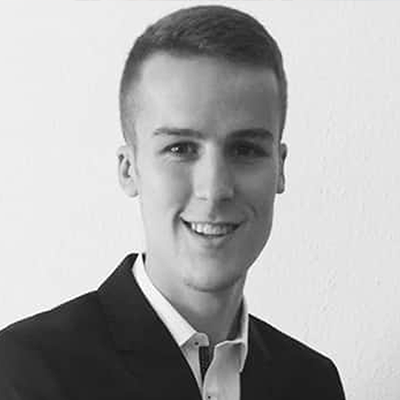 ---
My aim: Together with you, I will find the optimal solution for your digital problems. Both you as a provider and your customers will benefit considerably.


While my classmates spent most of their free time playing computer games, I was much more interested in the technology and its limitations.
So I quickly set up my own private gaming server. A short time later, my first website went online. Back then, a platform for exchanging the game items improved my pocket money considerably :-).

Apparently limitless and completely digital, with just one computer from home, providing a service and developing it further based on customer feedback, was always motivating and fascinating for me.
Over the years I have learned a lot about backend development in the overall process. And, after a short detour as a mechanical engineering bachelor, i was able to take specialized expert knowledge at companies such as Bosch and BMW.
I still have the enthusiasm to constantly acquire new technical knowledge and skills.

Today I am a developer with a great passion for innovation. It is particularly important to me to develop solid software in combination with a high level of user friendliness. Clean code and well-structured projects enable the successful implementation of complex applications.
Providers as well as end users should be able to achieve clean results using "simple" digital solutions.
I'm very adaptable to my role in your project. The variety of new tasks, colleagues and travel destinations that freelancers have time and time again is one of the things that I currently enjoy a lot.
So do not hesitate to contact me with any concerns. I look forward to your project!

Talk with me about : Backend Development, Laravel, Inertia.js, Continuous Integration, IBM Watson, Atmel SAM3X8E, Agile Working, Latest Technology Trends, Satoshi Nakamoto, Zurich Marathon or Oklahoma!

Tech-Stack and Skills
---
PHP ❯ Laravel, Symfony, SOLID
JS ❯ React, Vue(x), Inertia, Express, Gatsby
Frontend ❯ Bootstrap, Tailwind, SASS, LESS
Server ❯ AWS, Hetzner, Netlify, Ubuntu, Docker, Plesk, Redis
Embedded Systems ❯ C, C++, Arduino
IDE ❯ JetBrains, VS Code, PSR-2, PSR-4
Other ❯ GitLab, CircleCI, Deployer CD
OS ❯ Windows, Vagrant
Projektorganisation ❯ Jira, Asana, Office, Slack, Telegram
Hardware ❯ XMG / Schenker Neo 17 Custom Build
Sectors and Areas of Expertise
---
Blockchain (Payment processors)
KI (IBM Watson)
Web development (Backend, Full-Stack)
Big Data (Web Scraping)
IoT (Embedded Devices)
Technical marketing optimizations (SEO)
Project Experience
All projects
---
today
Maklerzentrale.com, Mainz
: Relaunch & Optimierung Website
Detail: The Maklerzentrale generates and mediates Germany-wide real estate leads to brokers.
My Tasks: Conception and new development of the web system incl. CRM- & Headless-CMS connection. Scalable / performance-optimized provision by means of CDN and Serverless-Functions. Optimization of funnels using A/B tests. Migration of a broker directory with approx. 40.000 entries.
Technologies: Gatsby, React, Netlify, Strapi, Perfex CRM
2020
Kryptolis AG, Uster
: Technical project management and implementation: Responsible for planning, integration & implementation of software applications.
Detail: Kryptolis AG develops customized blockchain software & white label solutions for companies. Current project work: Development and release of a trading platform for cryptocurrencies against fiat money.
My Tasks: Conception and development of software projects related to blockchain. The focus of my work is around 70% of the time on backend services. I am also the direct contact for technical advice and for support and regular maintenance.
Technologies: PHP, Node.js, Laravel, Inertia.js, Vue, Docker, Deployer
Intarium FM GmbH, Uster
: Complete conception and production-ready development of a web project: innovative accounts receivable and invoice management, responsible for technical project coordination and implementation.
Detail: A SaaS for receivables & invoice management for business (B2B). Automated reconciliation of payments based on reference. Cost-effective multiple payouts of cryptocurrencies. Central admin backend for managing internal processes for employees. Customizable referral program and API for retailers. Integration of OAuth2 registration in consultation with the crypto exchange.
My Tasks: Conception, planning and implementation as an overall project.
Technologies: PHP 7, Node.js 11, MySQL, Laravel (Nova, Horizon, Socialite, Telescope), Vue, Predis, Sentry, Google ReCaptcha, Intervention Image, Dompdf, Bootstrap, SASS, Bexio, PHPUnit
Coinnexus Oy, Helsinki
: Entwicklung und Wartung eines Payment-Prozessors von Kryptowährungen, verantwortlich für technische Projekt-Koordination und Umsetzung im Team.
Detail: API development for the integration of payment transactions with cryptocurrencies using open source software (individual setup with direct node connection): payment receipt, processing and storage. Safe storage: offline cold wallet / non-custodial. Development of a backup plan and fallback alternative solutions.
My Tasks: Concept, main development and technical management. Direct exchange of information with third parties. Cross-team presentation and integration of the internal API in other projects.
Technologies: ASP.NET Core MVC, NGINX, Node.js, Docker Compose, GO, NBXplorer, BitcoinD, DashD, Cold Storage
2019
ImmoRating GmbH, Cologne: Development and maintenance of own SaaS for automated lead management with real estate valuations for realtors, also responsible for technical strategy in online marketing.
2018
Startup TeachBack GbR, Cologne | Co-Founder: Responsible for website (frontend / backend) and general IT of the company: Germany-wide, digital tutoring agency with over 10,000 active users per month.
2016
References
---
Kryptolis AG
Freiestrasse 27
8610 Uster, CH

Monika Lamini
+41 76 211 09 81
support@kryptolis.ch


TeachBack GbR
Elisabeth-Schiemann-Weg 2
50933 Köln, DE

Simon Kuhlmann
+49 174 2438677
kuhlmann@teachback.de


Education
---
2019

Studies: Augsburg University of Applied Science
Graduation: Bachelor of Engineering - Mechanical Engineering

2018

Semester Abroad: University of Oklahoma - USA

2015

Technical high school: Karl Arnold School Biberach

2011

Languages: German (mother tongue), English (C1 - DAAD), French (basic knowledge)



Locations
---
Zurich, Bern
Munich, Stuttgart
Cologne, Berlin
Helsinki, Sofia
Remote work with regular on-site support is desirable, surcharges for accommodation, travel costs and discounts for remote work.
Contact
---
Nicht verfügbar
Currently:
Zurich, Switzerland
Phone:
+41 (0) 77 8168392
Phone:
+49 (0) 173 4293611
E-Mail:
tobias@novelnet.de